Who hasn't found themselves in a financial emergency at one time or another? Life can sometimes throw a curveball at you where you need cash fast and that is where our AutoCashUSA review can help. AutoCashUSA is a company that specializes in connecting individuals in need of cash quickly with over 700 licensed vendors nationwide who can provide that cash by way of a title loan or, for those in Alabama and Georgia, a title pawn.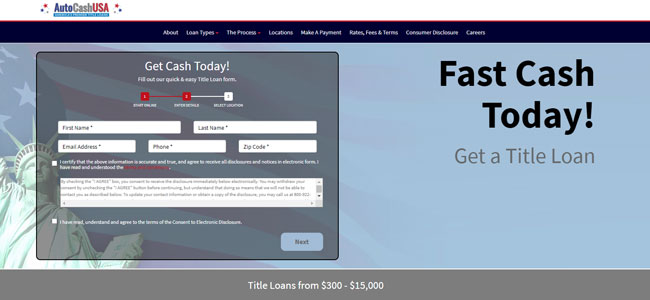 LOAN FEATURES
In case you're wondering, a title loan is a loan against your automobile, based on its fair market value, which takes into account such factors as the car's age, mileage, and other variables. Essentially, your car is the 'collateral' used to secure the loan. Loan amounts can vary from $3,000 to $15,000. Best of all, you still own and drive the vehicle while your title loan period is in effect. A title pawn is essentially the same thing, but your car title is used as the collateral.
Title loans are especially helpful for individuals with poor or no credit. Of course, with low credit scores or no credit history, interest rates can vary greatly, but AutoCashUSA states that "all credit ratings are accepted." Depending on the vendor, however, title loan/pawn Annual Percentage Rates can range anywhere from 36% to 360%.
AutoCashUSA has no 'say' in determining interest rates and advises that those decisions are made solely by the licensed vendors that provide the loans. The main point to get out of this AutoCashUSA review is that they do point out that the interest rates may be high and that you may want to determine if there are lower cost options to consider first.

LOAN APPLICATION INFORMATION
All you need to get a title loan or pawn is a clear car or truck title, valid proof of identification such as a driver's license or state identification card, and proof of income. A credit check may be required in some cases as well.
AutoCashUSA does not charge a fee for their services, but how do those services actually work? It's a fairly simple process. You enter your contact information and provide the year, make, and model details of your vehicle into AutoCashUSA's online inquiry form. Within 30 minutes, a representative will contact you to go over the options available and how they fit your financial needs. Once you determine which option is best for you, the final part of the process requires that you bring your vehicle and its title to your chosen licensed vendor's location for a quick vehicle inspection and to complete your loan paperwork and get your cash. In many cases, you can have a determination in a little as 30 minutes.
REPAYMENT TERMS
Payments for your title loan are detailed in the loan documents that the licensed vendor you select sends you. These vary from vendor-to-vendor and case-to-case, so it's important that you read all of your documentation before signing anything. Be sure that you understand all of the requirements and legally binding rules and regulations that the loan contract specifies before entering into it. In addition, every state in the nation has its own regulatory requirements about late payments and the vendors in each state must abide by those, so do your homework to better understand what the legal ramifications will be if you submit a late payment or fall behind on your payments.
Failing to pay your title loan is another beast entirely. Because you've provided your car as collateral for your title loan, failure to pay means that your vehicle can ultimately and legally be repossessed and even sold in order for the vendor to recoup their loan or pawn money. Additional charges could even apply, such as vehicle recovery charges and penalties.
SUMMARY
Our AutoCashUSA review depicted a convenient service provider that can help you secure a title loan or title pawn. Title loans can be especially helpful for those who have a poor or no credit score at all and need money quickly. If you're facing a financial emergency, a title loan may work for your needs. They're best as a short-term solution and not meant to help resolve long-term financial issues. As with any financial decision, it pays to read all of the fine print and understand what you're committing to before you sign anything binding.