Speedy Net Loan is a loan company that works by connecting customers with lenders willing to lend them money in the form of a short-term, small-dollar payday loans. This kind of service is ideal for situations when you need a little extra money to help you through your next payday. It is not meant as a long-term financing solution, as it can get a bit expensive. Speedy Net Loan is a trustworthy, reliable, and secure company with a nation-wide database of over 100 lenders, which accepts requests even from customers with a less-than-perfect credit score. Check out our Speedy Net Loan review to find out more about this online payday loan company.
Pros
Ultra-fast, convenient online loans
Wide network of nationwide lender partners
256-bit encryption
Cons
Not a direct lender
Insufficient information on rates and fees
Loans only up to $1000
How Speedy Net Loan Works?
As we already mentioned in the introduction of this Speedy Net Loan review, this is a company that does not work as a direct lender, but instead connects you with a matching lender. You fill out the application form and the company processes your data, after which it comes up with the ideal lender, based on your requirements and financial possibilities, as well as your location and some other factors. The company, therefore, serves as an intermediary between the direct lenders in their network and the customers.
Speedy Net Loan has a nation-wide network of over one hundred lenders, all of which are, of course, licensed in their states, as well as trusted and reliable. The exact terms and conditions of your loan do not depend on Speedy Net Loan in any way, shape or form, as it is completely up to the lender to decide how much money you can borrow. Still, Speedy Net Loan offers to help you get a loan ranging from $100 to $1,000, which is pretty much a standard in the payday loan business.

After you get matched and approved by the lender, you will have a certain amount of time to pay your loan back, with the due date typically being on or around your next payday. In most cases, it is either a 14, 15 or 16-day period – for those who get their paycheck twice a month – or a 30-day period – for those who get paid monthly.
Speedy Net Loan also promises to take care of all customers in need of a payday loan, regardless of their credit score. In fact, many lenders do not even care about your score, as long as you are employed (and can provide a proof of employment) and have an active bank account. This is important because the money will be wired to you or deposited electronically, usually within 24h after your loan request has been approved. The repayment, in most cases, will also be completed automatically. Speedy Net Loan provides its services for free and does not charge anything at all for processing your application and sending it to the lenders.
Finally, with Speedy Net Loan you don't have to worry about your sensitive personal and banking information because the application is protected by the industry-standard 256-bit SSL encryption that keeps you safe from data theft.
Application Process
The application process with Speedy Net Loan is very simple and does not take up more than a minute or two. All you need to do is visit their website and find the application form at the top of the page. There, you will insert some essential personal information, such as your name and email and specify how much money you are looking to borrow. Bear in mind that you can only borrow between $100 and $1000. You will also need to specify your location by typing in your zip code. This is important because you can only borrow from lenders that are licensed in your state and because different states have different laws and regulations regarding payday loans (in some states, they are not even legal).
After you have completed and sent in the application, it will only take a few moments, a couple of minutes tops, before you get an answer. The company will first tell you whether you are eligible for a loan and then match you with a lender, with whom you will finalize the loan. You may be asked to provide some additional documents. Make sure to provide a valid phone number, as the lender will most likely contact you asking for additional information before your funds get transferred to your account.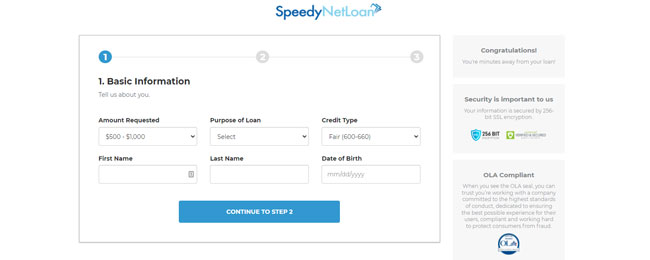 Repayment Terms
Most online payday lenders that Speedy Net Loan works with will deduct the loan automatically from your account once your due date arrives. Your due date will be either on or close to your payday, as we already mentioned in this Speedy Net Loan review. Now, what happens if you fail to make the repayment or are late depends solely on the lender and their policies. Some lenders will allow the loan to roll over to the next period, but you will still have to pay at least the fee. When your next payday comes, you will have to pay another fee, of course, on top of your loan, so it is highly recommended you make the payment on time and thus avoid piling up the costs. Also, note that rolling over the loan is not allowed in many states.
Your lender will, however, inform you on repayment terms once you finalize your loan documents.
Rates & Fees
The Speedy Net Loan website does not provide any information regarding the rates and fees that you can expect on your loan, and for a good reason: it is not up to them to give you that kind of information, simply because they are not the ones actually lending you the money. Different lenders allow different loan amounts, different loan terms and, of course, different fees and APR rates. However, it is safe to say that the fee you will have to pay along with your loan, will not be less than 10-15% of the loan amount and that 20-35% is an industry average.
Bottom Line
As you can probably gather from our Speedy Net Loan review, this loan company helps you in times when you desperately need some small cash really quickly by matching you with one of the many lenders in their database. Bear in mind that that's where their services stop. Speedy Net Loan cannot vouch for anything that will happen once you get in touch with a lender. However, their services really are very fast and you can get a lender within minutes. This service is ideal for those with a bad credit score because it's not a factor that decides whether or not you will get a loan. Everyone of age with a job and a bank account will most likely get a payday loan through this efficient, fast, and safe online loan service provider.