BlueVine is California-based lender that provides small businesses and truck drivers with access to working capital when they need it. For business owners, that means either a line of credit or invoice factoring; for truckers, it entails freight factoring. The company prides itself on serving its customer base "with speed, simplicity, and transparency." What really sets BlueVine apart from its competitors is that it also provides easy access to advances on a company's outstanding invoices in a process known as invoice factoring and via freight factoring for truck drivers.
Wondering just what invoice and freight factoring are? Let's start this BlueVine review by explaining that. Invoice factoring is when a business sells its outstanding invoices to a company (in this case, BlueVine) for cash. BlueVine then becomes a type of "outsourced credit department" that handles the collection of those outstanding invoices to recoup its costs. Freight factoring is essentially the same thing as invoice factoring but it involves the sale of outstanding invoices for freight that has already been delivered.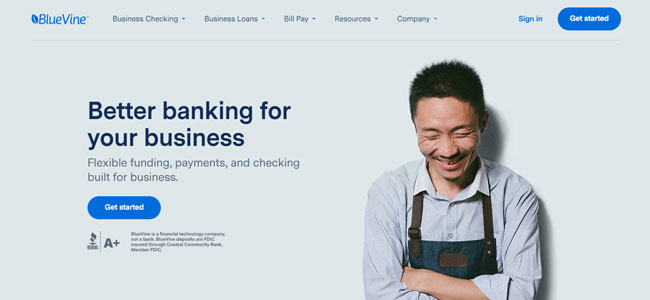 CREDIT LINE AND FACTORING FEATURES
BlueVine offers revolving credit lines between $5,000 and $250,000. Their lines of credit allow you to draw money whenever you need it and pay only for what you use. Best of all, your line of credit replenishes as you repay it. To top it all off, getting access to money couldn't be easier either thanks to BlueVine's mobile app.
For truck drivers, BlueVine's freight factoring provides drivers with a 95% advance rate for just a 5% flat fee. It's free to have money deposited electronically via ACH. Prefer to get your money wired to you? There's just a $15 charge per wire transfer. For both invoice and freight factoring, you can fund only the invoices you want with no reserves and no minimums and use the service for as long (or as short) as you'd like. It's that simple.

APPLICATION INFORMATION
So, how do you get a line of credit or factoring services through BlueVine?
Your BlueVine experience begins when you create your free online account in a process that takes no more than five minutes to complete. There are no multi-page application forms to fill out and no reams of required paperwork to submit. Instead, you simply need to complete three steps.
First, provide BlueVine with general business information, such as your business address and tax ID number. Then you provide information about the business owner, including his or her social security number. Lastly, you give them read-only electronic access to your banking statements (or if that's not possible, copies of your three most recent monthly bank statements). All information that you submit electronically is always encrypted to ensure that your personal details are protected.
When it comes to getting loan or factoring approval, the company does require that your credit is in good standing. That means that you must have a personal credit score of at least 530 for factoring and a score of 600 or greater for a line of credit.
With all of this information in hand, BlueVine will typically have a decision on your request for a line of credit or factoring services within 24 hours – all with no minimum volume requirements, no application fee, no credit check fee, no check processing fee, and no monthly service fee.
REPAYMENT TERMS
Repaying your BlueVine line of credit is done by weekly fixed installments over a period of six months. Interest rates start at 6.9% and there are never any maintenance or unused credit fees. What's more, there are no termination fees or penalties if you stop using BlueVine or want to leave the service at any time, so long as you don't have an outstanding balance.
SUMMARY
Whether you're just starting out or have years of experience under your belt, running a small business can be trying in a multitude of ways; managing your funding shouldn't be one of them. That's why BlueVine aims to help make it easier for business owners and truck drivers to grow their businesses without worrying about cash flow. After all, cash flow is the life blood of any business. BlueVine's lines of credit, invoice factoring, and freight factoring services are good for the business owner or truck driver who wants to free up their time to focus on running or growing their business and not on managing their accounts receivable. Bottom line, this BlueVine review definitely presented a valuable asset to all the small business owners and truckers out there who are in need of quick cash.