Capital One is not a typical financial intermediary like most quick loan companies – it's a fully-fledged bank with a diverse set of businesses. Moreover, it is listed on Fortune 500 and has a strong presence all over the US. While it offers a broad array of services that range from traditional bank accounts to investment opportunities and credit cards for both private individuals and legal entities, its portfolio of loans is particularly interesting – every now and then we all need a bit of quick cash to bypass a gap in our finances. Keep reading our detailed Capital One review to find out more about this company's offer.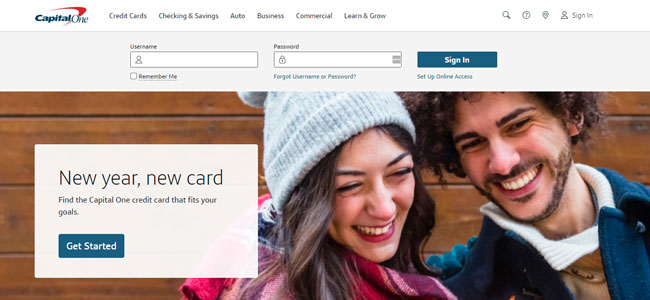 LOAN FEATURES
One of the more interesting aspects of Capital One is its Learning section. You can quickly get informed about various aspects of personal and corporate financing, as well as learn more about credit score, APRs, investments, and even identity fraud. Capital One offers different types of business loans for various business entities, new and used car loans, and home loans (on the basis of mortgage), as well as student and personal loans.
Capital One's home loans depend on quite a few factors, including previous credit history, debt to income ratio, and down payment. It offers both fixed rate and adjustable rate mortgages (so-called ARM), as well as hybrid ARMs which have a fixed rate for a set period of time, after which you can change it in agreement with the bank. There are also interest only mortgage loans (the first few installments serve to pay off the interest) and FHA loans (Federal Housing Administration) for clients who have a low credit score. It's interesting to note that Capital One also offers home equity loans and home equity lines of credit (HELOC), which are basically loans on top of your existing mortgage. All of those loans can be 15 years fixed, 30 years fixed, 5/1 and 7/1 ARM loans.
Regarding personal loans, Capital One does offer them but mainly for debt consolidation; that means that the client will have just one financial obligation (the loan in question) instead of several. As an alternative, you can apply for personal lines of credit which vary from $5,000 to $10,000. APRs also vary from 6% to 25%, but those will mainly depend on your credit score and previous financial history.
Student loans are another interesting aspect of Capital One's offer. These include Stafford loans (both subsidized and unsubsidized), Perkins loans, and Federal Parent PLUS loans; even the so-called private student loan is available (if one doesn't qualify for any other type of student loans).
Auto loans can be taken for the purchase of both new and used cars. According to Capital One, it's important to follow the 20% rule: your monthly payment shouldn't exceed 20% of your net monthly income. Time limits vary from 24 to 72 months and APRs are 2.99% and up – but that also depends on your previous history of auto loans.

LOAN APPLICATION INFORMATION
As we found out while researching for this Capital One review, the information required for a loan depends on the type of loan. For instance, if you are applying for a house loan, you need to provide your annual income, previous financial records, bankruptcy, credit rating or co-application. Furthermore, Capital One requires you to make a profile in order to take out a loan; you will be redirected to various Capital One sites that deal with the specifics (for instance, Home Loans Solutions Finder for home loans). While the whole process can be done online, Capital One does have numerous branches in different US cities, so you can finish everything in person.
REPAYMENT TERMS
Repayment terms vary between different types of loans: some have fixed APRs, others flexible; some have early repayment penalties while others don't. You'd have to check with Capital One directly to see what they might offer you, considering your previous financial history and credit score.
SUMMARY
Capital One is a well-known, secure, and diversified bank that offers an array of financial services, loans included. While they do focus on their clients' credit scores, you might be able to take out a small personal loan even if you have a low credit score. Therefore, we can conclude this Capital One review by saying that this company is a good choice if you have a stable source of income and want a stable, easily accessible source of funding where everything is clear, from APRs to all repayment terms.