Buying a new car is not an easy decision. Things get even more difficult if you are struggling financially. There are numerous online intermediaries and banks with auto loan options, but it might be a better idea to broker a loan directly with the car dealer. That's where our CarsDirect review comes into play. CarsDirect, as the name implies, is a car dealership that sells both brand new and used vehicles online, also connecting customers with various loan lenders. It's a well-known company (part of Internet Brands corporation) with a good reputation, so potential clients have nothing to fear when dealing with CarsDirect.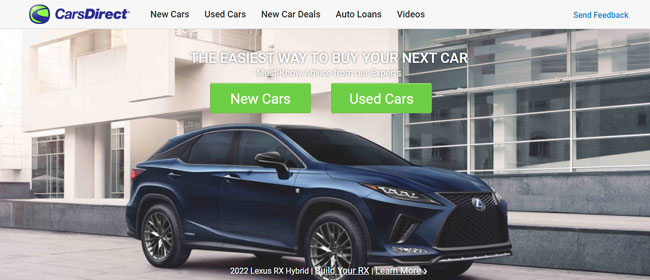 LOAN FEATURES
CarsDirect features loans for both new and used vehicles, as well as refinance loans for your existing vehicle. While the untrained eye might think that's about it, wait until you get to see the different types of car loans they offer: student car loans, unsecured car loans, 72 months car loans, auto pawn loans, and many other types. All those types have different terms; some come with down payments, some are hassle-free, others require a fixed monthly income, and so on – it all depends on the loan provider and your previous credit history. Help comes in the shape of their Car Loan Calculator, a handy feature where you enter your desired monthly payment, down payment, and credit rating (plus lease term and sales tax) and the calculator tells you what your price range is. Since CarsDirect is also a car seller, you can immediately check the cars which are in that price range. Depending on your taste in vehicles and available money, the terms and features of the loan will vary from lender to lender. Since CarsDirect is a rather trustworthy company, you shouldn't be worried about getting the best deal.
CarsDirect also accepts applicants whose FICO credit score is 640 or lower, which is good news for all those who were in financial troubles before. It also has plenty of helpful articles with loan advice and explanations, dealing with a plethora of loan-related topics (from first car purchase to refinancing your existing vehicle). The good news is that the company also accepts applicants with no prior credit history, as well as those who declared bankruptcy in the past.
Refinance loans are provided by RateGenius (a partner of CarsDirect), a company which claims it can save you up to $81 monthly and reduce your interest rate by 5% on average. This is an impressive result that might significantly ease your financial burden.

LOAN APPLICATION INFORMATION
The first part of the loan application requires the usual information, including name, address, phone number, city, and state; SSN (social security number) and housing information are listed in the second part of the application. While it's not typical to ask for the type of residence or monthly housing payment, it's understandable in the context of taking out a car loan. When you're taking a second (third, fourth) loan on top of the basic housing loan, things might get complicated, which means that the loan gets riskier. The third part of the loan application requires employment information. Overall, the entire process is not overly complicated and can be done in minutes. By applying, you agree that the information will be shared with auto dealers and other financial institutions that act as lenders.
REPAYMENT TERMS
Repayment terms and conditions vary depending on the lender that is providing the loan. For instance, if you have a poor loan history and a bad credit score, you might get a loan with prepayment penalties. Likewise, if you have a good credit history, you might work out a more favorable deal with a lower APR.
SUMMARY
This honest CarsDirect review revealed it to be an excellent choice if you want to purchase a new or used car, as well as for refinancing your previous car-related financial obligations. With a huge choice of vehicles of all types and sizes, it's a one-stop shop for both demanding buyers with outstanding credit score and those who want to have a new vehicle but have lower credit scores.