Check `n Go is a loan company that has been offering quick financial solutions for over two decades. They make the process of taking out payday loans simple and quick and offer fast approval with cash in your hands as soon as the next business day. What makes Check `n Go special is that they are not only interested in making a profit; they do humanitarian work, striving to offer help to those who need it most. Continue reading our Check `n Go review to learn more about this company.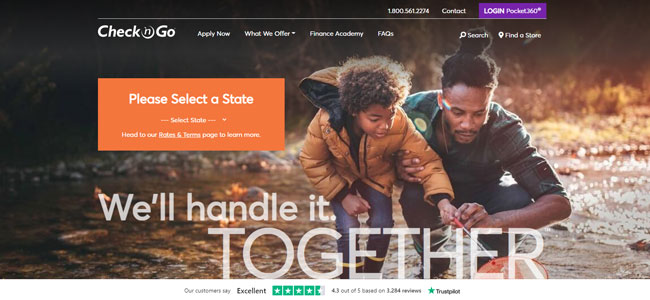 Pros
Direct lender except in Ohio and Texas
Fast approval and payout
Simple in-store and online application
Earn money by referring
Several refinancing options
Cons
Online payday loans in only 17 states
How Check `n Go Works
Check `n Go is a direct lender (except in Ohio and Texas), which is convenient since such manner of lending involves fewer fees than in the case of lending from third-party lenders. They offer payday loans in 29 US states, but you can get one online only in Alabama, California, Florida, Hawaii, Illinois, Indiana, Kansas, Maine, Michigan, Mississippi, Missouri, Nevada, North Dakota, Ohio, Oklahoma, Texas, and Utah. Customers from other available states can apply in the company's stores.
The entire process, from applying to receiving cash, is quick, simple, and safe. The amounts that can be borrowed with a payday loan range from $100 to $1500 (this depends on how much you earn, as well as your state of residence) and the usual loan term is two to four weeks.
The requirements you need to meet in order to apply for a payday loan with this company constitute the bare minimum, as you only need to have an active checking account, steady income, valid phone number, and an email address in order to allow the lender to reach you.
As a member of the Community Financial Services Association, this company allows you to give up on the loan you took out no later than the end of the next business day. You will be required to return the loan, with no additional fees.
Check `n Go lets you earn money by recommending them to your friends. By participating in their referral program, you can earn up to $500 per year. You get a $50 e-gift card for each customer you refer and these cards can be used to buy gifts at the most popular retail stores, such as Wal-Mart, Amazon, Target, iTunes, and others.
If you have any doubts, you can contact their customer support, which is available round the clock.
Application process
As suggested before in this Check `n Go review, applying for a loan with this company is as simple as it is fast. If you are applying online, you are required to fill out a form with your personal, income, and bank information, as well as some additional details (whether you are an active member of the Armed Forces), and review their terms and conditions. This should take no longer than 5 minutes. Once you finish your application, if you qualified for the faxless application, you should soon hear from a representative via phone or email informing you of their decision. If all goes well, the money can be deposited to your checking account on the next business day. If there is faxing involved in the application process, you may have to wait a little bit longer. You may also qualify for instant funding and receive the cash the very day you applied for your loan.
If you are applying for a payday loan at the company's local store, you will only have to wait for them to process and verify your information and as soon as they approve your request, you will receive the money.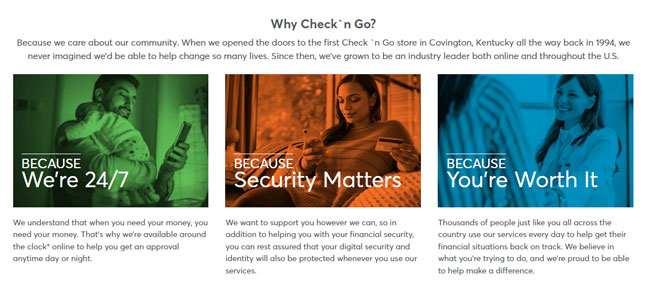 Repayment Terms
When repaying your loan, you are required to pay it back on the scheduled due date, which is usually the day you receive your next paycheck. If you apply online, the money will be automatically withdrawn from your account. If you apply in a store, you will need to deposit the post-dated check you received upon signing the agreement and the money will be deducted from your account.
If you miss a payment, that is, if it is not possible to withdraw money from your account on the due date, the payment is sent to collections. Check `n Go does not charge any extra fees, but there is a returned check fee in some states.
This company allows you to refinance your loan. You can find out if you are eligible by logging into your Check `n Go account. There are three options available in terms of refinancing – standard, step up, and pay down.
If you choose the standard option, you pay the transaction fees from you previous loan. If you meet the requirements for further financing, you can take out a second, larger loan using the step up option. However, keep in mind that a larger loan means a larger principal plus the fees to be paid upon the next due date. With the pay down option, you pay down the principal of the loan you previously took out, which means you will pay off both the agreed fees and a part of the principal. With both the standard and the pay down option, you are extending your loan for another term, which means you will be responsible for additional fees.
Rates & Fees
As with most lending companies, the rates and terms, as well as the duration and amount of the loan, depend on your state of residence. In this Check `n Go review, we will provide an example of what you would be required to pay if you choose to take out a cash payday loan with this company.
If you live in California and choose to borrow $100, the finance charge is $17.64  and the APR amounts to 459.90% for a 14-day pay period. If you borrow $200, the fee is significantly higher and amounts to $35.29 and the APR is similar although slightly higher than with the $100 loan (14-day APR equals to 460.03%).
The maximum payday loan amount for California residents is $255 (compared to, for example, $500 in Alabama). As far as the duration of the loan goes, you need to repay your loan in 10 to 31 days.
Since there are great differences in loan terms that apply to different states, this should only serve as an example and you can view the exact information for your country of residence on the company's website. We strongly advise you to do so before applying for a loan.
Bottom Line
Check `n Go operates in a rather transparent manner, with the fees and terms readily available on the website. If you need a quick financial fix, they can easily provide it to you, as long as you meet their truly modest requirements. Refinancing your loan is just as easy. If you sign the agreement and take the money, but then realize that it does not really work for you, you can cancel your loan and return the principal by the end of the business day following the day you received the loan and pay no extra fees. Unfortunately, their services are available in only a limited number of US states and the terms differ immensely, so it is wise to check out the details on the website before applying.