Credible is an online loan marketplace created with the goal of helping you get the best possible deal on your student loan, personal loan or mortgage. It is not a direct lender but instead connects you with multiple trustworthy lenders so you can choose the one that offers the most acceptable terms. The best of all is that it does not charge any fees and allows you to check rates without affecting your credit score.
The company is headquartered in San Francisco and it has been around since 2012. It boasts an A+ rating with the Better Business Bureau as well as thousands of satisfied clients. Keep reading our Credible review to discover how this company could assist you in making all the right financial decisions.

Pros
Receive personalized offers in just 2-3 minutes
Borrow between $1,000 and $100,000
Compare offers from multiple lenders
Pay no origination fees
Get the funds as soon as the next business day
Enjoy the best rate guarantee with student loan refinancing
Reach out to customer support any day of the week
Cons
Minimum repayment period of 2 years
Not ideal for borrowers with a credit score under 700
How Credible Works
Operating as an online loan broker, Credible connects you with prospective lenders that compete to offer you the best terms. You can apply for a student loan, personal loan, and mortgage, as well as student loan and mortgage refinancing. If you are interested in a personal loan, you can opt for debt consolidation, credit card refinancing, home improvement or bad credit loan, depending on your needs and financial situation. The company can help you identify the right credit card for you as well, but this falls outside the scope of this Credible review.
As a Credible client, you get to fill out an application online in minutes and have it sent out to up to 11 lenders at once. If you are eligible, you immediately get personalized rates from all interested lenders, so you can compare them and see which option is the best fit for your financial needs.

With Credible, you get exact rates instead of estimates. You are connected with trusted lenders like Avant, Ascent, Best Egg, Citizens Bank, Marcus By Goldman Sachs, MEFA, and a number of other companies and institutions with stellar reputations. You are never tricked into paying hidden fees because all the costs are explicitly shown and Credible charges zero fees itself.
Therefore, Credible allows you to fill out a single application and get offers from a number of vetted lenders. This way, it lets you save time and easily identify the optimal solution, as you get to compare real rates from the top lenders straight from its website, without wasting time on multiple applications.
For more good news, many lenders on Credible can get you the money really fast. You can have the funds you need transferred as soon as the next business day, which is about as quick as it gets.
On top of that, if you are interested in refinancing your student loan, you get to enjoy the best rate guarantee. If you find a better rate anywhere else, Credible promises to give you a $200 reward.
Application Process
When applying for a loan through Credible, the application process depends on the type of loan you need. If you are taking out a personal loan or taking out or refinancing a student loan, the application process takes just 2 minutes. When taking out or refinancing a mortgage, you can expect to spend 3 minutes answering questions that help Credible find you the right lender.
The application is easy to fill out and you get simple explanations for everything that you may not fully understand. You are guided through the whole process and there should be virtually no questions that you cannot answer straight away, without much thought.
Regardless of which loan option you choose, you start by creating an account. You are asked to provide your email address and come up with a password. Then you can move on to answering questions one by one. You can expect to provide personal and contact information, such as your name and address, along with facts about your education and financial situation.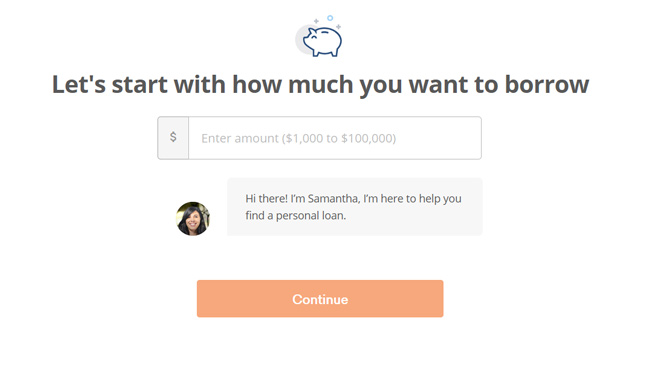 The questions are not what we would consider intrusive, but you are asked to provide information regarding your primary and secondary earnings, housing costs, potential mortgages, and the like. You are further required to enter your social security number. While sharing such information can be uncomfortable, it is important to know that your data is necessary to determine whether you are eligible and whether you can repay the loan. Moreover, your information is protected at all times.
Once you complete the application process, Credible or affiliated lenders perform a soft credit check that you authorize in advance. Such checks do NOT affect your credit score, but they do allow lenders to provide personalized prequalified rates.
While Credible can help you take out a loan even if your credit score is not perfect, you are not eligible unless your score is 580 or more. Furthermore, your chances of getting a good rate significantly increase if your score is 700 or higher. Otherwise, you may find yourself with very few options.
If your credit score is high enough and everything checks out, you can move on to comparing rates and deciding which lender is the right choice for you.
Repayment Terms
As mentioned before in this Credible review, this online loan broker offers a vast range of loan options and cooperates with a large network of lending partners. That means that repayment terms significantly vary depending on the loan type and lender you choose.
Generally speaking, you can borrow anywhere between $1,000 and $100,000 and repay your loan within 2 to 20 years. However, the minimum and maximum loan durations are not the same for all loans. For example, with student loan refinancing, you can expect the loan term to be anywhere between 5 and 20 years. The average loan duration with personal loans is usually between 2 and 7 years.
As far as the repayment frequency is concerned, it depends on the loan type, the lender, and the terms of your contract. However, it is important to know that repayment plans are particularly flexible with private student loans, as you can choose between a number of options that can help you adjust your repayment frequency and repay the loan more easily. You can opt for a deferment, an interest-only repayment plan, and other convenient solutions.
While late payment fees are an option with any loan or lender, you are sure to be happy to hear that Credible has done its best to find lending partners that do not charge extra fees if you repay your loan early. Regardless of whether you are refinancing a student loan or taking out a home improvement loan, you can be sure that you never have to deal with any prepayment fees.
Rates & Fees
Different Credible lending partners charge different rates. In general, the fixed rates range from 3.10% to 35.99%, depending on the loan type and lender. Variable rates start at just 1.90%, but you should keep in mind that these rates can significantly change over the course of the repayment period.
Like we stated previously in our Credible review, this lending broker charges absolutely no fees. It only receives commissions from its lending partners. This is great news since certain lenders can charge up to 6% in origination fees, which can greatly increase the costs of your loan.
Nonetheless, even though Credible itself does not charge fees, you should read your loan agreement carefully to find out if there are any lender-specific charges you should know about before signing.
Bottom Line
Credible is currently one of the most trustworthy online loan brokers on the market. It does not only have a huge network of reputable lenders, but it also allows you to use its services free of charge and check rates with multiple lenders with one application and zero effect on your credit score.
It makes applying for a loan easy, quick, and comfortable and gives you full control over your financial decisions while offering plenty of help along the way. It helps you discover the best rates in just a few minutes and lets you choose from plenty of options as long as your credit score is not poor. In other words, it represents a valuable assistant that can make taking out or refinancing a loan as painless and cost-effective as it can be.