Dealstruck is committed to helping small businesses strive by providing them with capital to help them grow, drive the economy, gain independence, and create new jobs. Dealstruck is here to provide the best financial options with a well-built team, consisting of the most talented people in the industry.
This Dealstruck review will depict a company with an ambition to become the most trusted loan company when it comes to providing financial assistance to small businesses. Dealstruck believes that all small businesses have the ability to grow well with a financial backing. The team is experienced in producing custom designs to create lending packages for you to realize your dream.
The company is here to customize financial solutions for your business' growth. They utilize traditional business loans, asset-based and inventory lines of credit, along with many other revenue-based loan products for you and your small business. This company is not just a simple lender but a partner who is invested in you and are here to connect you with the best resources to help you to reach your future much faster.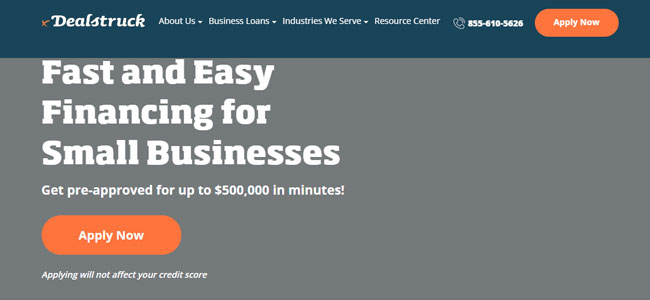 LOAN FEATURES
As a loan company, Dealstruck has many features that will provide its clients with the best support and options, which will keep their businesses growing. It provides fixed rates and payments that can help everyone, from small businesses to government contractors, do everything from opening new locations and creating resolutions to tax liens. With fixed payments, you have the ability to pay off your loan whenever you want, which gives you control over the amount of interest that is paid on the initial loan.
Another feature that this company provides is the ability to expand with a loan that will help you pay for equipment purchases, advertisements, tenant improvements, and new hires. It also gives you the option to choose from two other types of loans, inventory credit line and accounts receivable credit line. Inventory credit line is a loan where Dealstruck pays your suppliers, so that you can keep your funds for operations, new opportunities, and unexpected expenses. Accounts receivable credit line is an asset-based credit line where you get to borrow against outstanding invoices while still keeping the ownership. You can borrow up to $500,000, with term loans of up to 48 months. Reasonable rates start at 9.99 percent and you can receive cash within 5 to 7 days.
LOAN APPLICATION INFORMATION
There are three different types of loans that you can apply for, including traditional term loans, inventory credit line, and accounts receivable credit line. Which type you will opt for depends on what you or your business is searching for, whether it is to borrow money, to have Dealstruck pay for your suppliers while you keep your own funds or to borrow against outstanding invoices. Applying for all three of these is quite simple. To apply for a specific loan, you will need to have 12+ months in business, a 600+ personal credit score, and an annual revenue of $150,000.
REPAYMENT TERMS
The terms of your repayment plan depend on you and what your company is looking for. As it is a loan company that offers reasonable rates starting as low as 9.99, the repayment plan is totally in your control. It can range between as little as a month and 48 months. With each particular loan that Dealstruck provides, different interest rates do apply. With a traditional term loan, it would be better to take the longer term, as it will make payments more affordable.  When it comes to the two types of lines of credit, it would be more beneficial to take a shorter term.
SUMMARY
When it comes to financing your small business, this Dealstruck review definitely pointed you in the right direction. With such an attentative team that can guide you through the process and a company that strives on looking out for small businesses and their owners, Dealstruck is the way to go. Here you will receive the best loan options that benefit your company. Considering the amount of features it provides and its convenient repayment plan, this company is more of a partner than a lender.