Jora (Credit Holdings, LLC.) is a respectable loan company that allows its users to get attractive loans as early as the next day when they're in need of some quick cash. First-time applicants can qualify for loans between $500 and $2,600, depending on their state of residence, and use the money to pay rent, buy groceries, cover the bills, and repay an existing debt/loan.
If you're looking for a fast and reliable loan service, read our comprehensive Jora review to learn more about this exceptional lender and how it can help you solve your financial problems.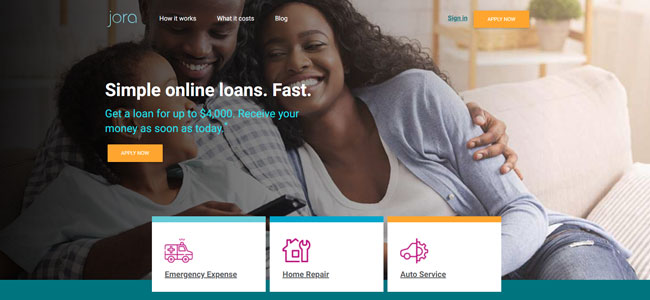 Pros
Simple application process 
Bad credit plays no role 
No minimum income required 
Company operates in 10 states 
Quick approval 
Fast turnaround time (1-2 days) 
Longer loan terms 
No prepayment penalties 
How Jora Works
First of all, Jora doesn't offer payday but installment loans. Payday loans are short-term credit options designed for people who need to borrow less than $1,000 and then pay the loan back within a couple of days or weeks. Installment options allow you to borrow more and give you months (or even years) to pay back your loan. 
As we already mentioned, Jora allows you to borrow between $500 and $2,600, but the min/max amounts vary from one state to the next. For example, the minimum you can borrow in Alabama is $2,000 and the maximum is $3,000. Unlike many other installment loan lenders, Jora does not require a set minimum income. It does not limit your income to what you earn from your job either. If you have unemployment or disability checks, you can still qualify for a loan. 
Jora currently operates in 10 states, including Alabama, California, Delaware, Idaho, Missouri, New Mexico, North Dakota, South Carolina, Utah, and Wisconsin. When assessing your loan application, the company will adhere to the local laws in your state. 
In order to qualify for a loan with Jora, you need to: 
Be at least 18 years old (19 in Alabama)

 

Have a regular source of income

 

Have an email address

 

Have an active checking account

 
Jora will prompt you to provide your credit report once it receives your application. However, no minimum credit score is required to qualify for a loan.
After you submit your application online, you'll receive a decision in mere seconds. If you get conditionally approved (subject to verification of your application information), you'll be able to request the chosen (approved) loan amount. If the company is unable to approve your credit application, you will receive a personal notification with the reason for denial. 
On the other hand, if your application is approved & verified and you sign the Loan Agreement by 5:00 p.m. CST, the company can deposit your loan funds electronically into your bank account as early as the next banking business day. Alternatively, you can request a paper check.
Lastly, Jora is a direct lender, which means there are no third parties involved and you will be getting your loan funds directly from the company. 
Application Process
The application process is quite simple. You can submit your application online on the official website after providing the following information: 
General info – ZIP code, state of residence, first/last name, email, date of birth, and your password.

 

Personal info – Address (no PO boxes), apartment/unit number, city, social security number, driver's license number and state of issue, home phone, and cell phone.

 

Financial info – Income type, additional monthly income amount, additional income source, bank routing number, bank name, checking account number, whether you rent or own your home, and monthly rent/mortgage amount.

 
After you type in the required information, all you have to do is submit your application and wait for a quick preliminary response. You'll receive one of three responses: approved, denied or conditionally approved, in which case you might be prompted to provide extra information to confirm your identity.  
Repayment Terms
Jora allows you to choose your payment frequency between bi-weekly and monthly payments. Depending on your state, your loan term can be anywhere between 4 and 30 months. The payment amount is withdrawn automatically from your checking account, so make sure you have enough money to cover your installment and avoid your bank's overdraft fees. Alternatively, you can also provide payments via checks or money orders. For extra convenience, Jora will attempt to link your loan payment dates to your pay dates. 
Jora can report late/missed payments or loan default to a credit reporting agency. In other words, missed payments with Jora can negatively affect your credit score. The company can also assign an additional interest in those cases or submit the returned payments to your bank for reprocessing. Finally, if it fails to reach you, the company may flag you as a delinquent account and sell your debt to third-party affiliates (collection agencies). 
On the upside, Jora doesn't feature any prepayment penalties, which means you can pay back your loan in full at any given time. This will also reduce the total interest you'll have to pay. 
Rates & Fees
Installment loans can be quite expensive. The total loan cost will depend on your state, your payment history, and the amount you're approved for. You can see the exact details on the loan cost calculator on the "What It Costs" page. For illustration, in the State of Missouri, the APR (Annual Percentage Rate) for a loan of $2,000 is 230% with 48 bi-weekly payments of $179.54. This means your loan of $2,000 will cost $6,618.50. 
Bottom Line
Jora is a transparent and very reliable installment loan lender. Its loans may come at a higher price, but you get much more time to repay them and can borrow more money compared to payday loans. In other words, Jora can see you through any rough situation as long as you plan accordingly and budget for potential loan costs. 
We hope our Jora review provided valuable insight into the company's service and helped you make an informed choice that'll help you resolve any financial issues and get back on your feet.