Kabbage is an Atlanta-based loan company that provides business loans to individuals, companies, and corporations that need operating capital. Starting or growing a business takes money and that's where Kabbage comes in. It bills itself as the #1 online business loan company around today and boasts the world's fastest and easiest process for providing capital to small businesses, often funding companies in just a matter of minutes. Whether you're looking to expand your workspace, purchase new equipment, create a startup or fund any other business-related endeavor, Kabbage can help you get the working capital your company needs. Keep reading our Kabbage review to find out if this company can fit all your requirements.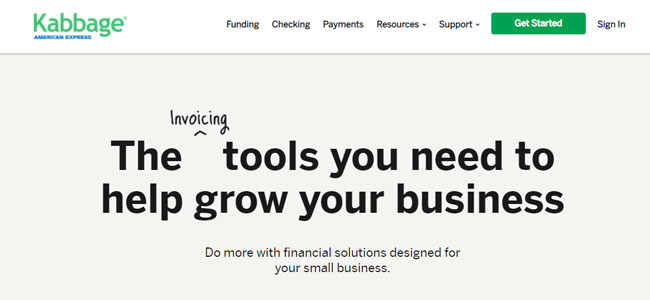 LOAN FEATURES
At Kabbage, it's possible to get a six- or twelve-month business loan ranging from $2,000 to $150,000, with approval in just a matter of minutes for the majority of loan applicants. How's this possible, you ask, when 'traditional' brick-and-mortar lenders can take weeks to approve a business loan? It's pretty simple, actually. With information from you, Kabbage can evaluate your business data in real-time. This means no filling out reams of paperwork, no faxing and re-faxing of forms, and no interminable wait for a decision on your loan application.
In order to qualify for a twelve-month loan, the loan amount must be at least $5,000. Loans for less than that amount are for a six-month time period. Best of all is the fact that you can draw from your loan once daily so you've got continuous access to your funds whenever you need them. Gone are the days of lump sum loans; instead you can access your loan funds like a line of credit, paying only for what you use.
Like most lenders, Kabbage does charge a fee for their loans. It varies depending on such factors as your credit history and business performance data. Fees range between 1.5 and 10 percent. All in all, not a terrible 'price' to pay for working capital that can turn your business dreams into realities!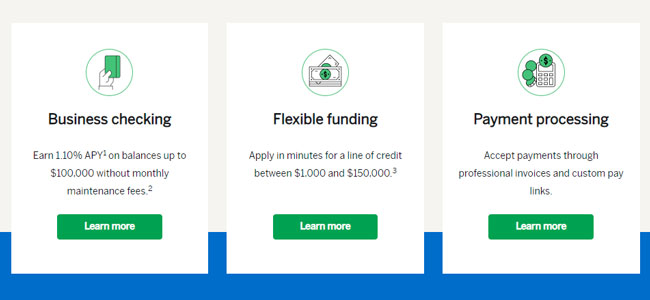 LOAN APPLICATION INFORMATION
So, you're in the market for a business loan; what can Kabbage do for you in just a few minutes? A lot, actually. Simply create your free account online and, with just a couple of links to your business accounts, Kabbage can quickly and easily verify and review your income statements, tax documents, collateral, and more. Real-time instant access to this information means a decision regarding your loan application is made in just a few minutes. And even though the loan application process is done entirely online, Kabbage maintains a local customer service team to answer your questions and provide personalized service to you every day of the week.
One of the best pieces of news we have to deliver in this Kabbage review is that with this company, there are just two minimum loan requirements: 1) that your company is in business for at least a year and 2) that your company generates a minimum of $50,000 a year in revenue. Some more good news: there's no application fee, so you won't have to fork out any of your hard-earned money for the loan application process itself.
Once you're approved for a loan, Kabbage will immediately deposit the funds into your bank or PayPal account. It's all done online and without any inconvenience to you. You can even get funds through Kabbage's mobile app.
REPAYMENT TERMS
Researching for this Kabbage review, we were happy to see that the repayment terms are pretty straightforward. If you have a six-month loan, you'll pay back 1/6th of the total loan each month plus the monthly fee. If you have a twelve-month loan, your payment every month would be 1/12th of the loan total plus the monthly fee. Best of all, there are no hidden costs and no early payment fees. So, if you pay your loan back early, there are no penalties or extra charges, which is a nice feature if you're looking to pay off your business' debts ahead of schedule.
SUMMARY
Kabbage's business loans are a great solution for companies in need of funding. With loans issued through FDIC-insured Celtic Bank and an A+ certification from the Better Business Bureau, Kabbage offers the small business owner a dependable way to help start or grow their business. With easy qualification and fair repayment terms, Kabbage loans can mean the difference between success and failure for today's small business owner.