In this LoanStart review, we'll provide you with all the relevant information on this financial intermediary with a branched network of affiliate lenders – or, in simpler terms, a company that will connect you with potential lenders who might approve your loan. Everyone needs more or less money from time to time to plug that financial hole in the budget – whether it's for a renovation, buying a new car, home repairs, tuition costs… LoanStart does have some interesting features that set it apart from other loan companies. For instance, the amount of money they approve ranges from $1,000 to $35,000 and the process is not overly complicated. So, if you're in need of some money and time is of the essence, you'd be wise to turn to LoanStart!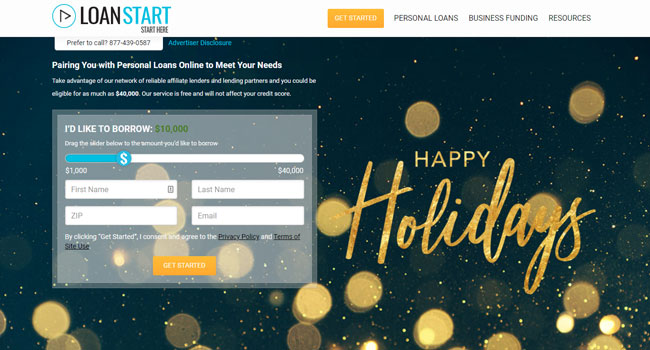 LOAN FEATURES
We'll start this LoanStart review by enumerating their basic requirements: you must be at least 18 years of age, have a valid SSN (social security number), US citizenship or residency, proof of income, bank account, and credit score. Your credit score might affect your application in both positive and negative ways: bankruptcies, previous late payments or other types of debts will affect the score negatively and, consequently, your loan application might be rejected. The great thing about LoanStart is that it doesn't require an overly high credit score – it goes as low as 580! The interesting thing is that there are different types of personal loans one can apply for: P2P (peer to peer), Personal Installment, and Bank Personal.
A P2P loan ranges from $1,000 to $35,000, requiring employment, monthly income of at least $2,000, and a credit score of 600 or better. The twist is that banks aren't borrowers in this type of loan; only private individuals and companies have the role of lenders here. Peer to peer loans are quite popular due to the fact they have lower interest rates, compared to the bank loans. The lender might impose a so-called loan origination fee (usually 1 to 5 percent of the total sum), but all terms and conditions are worked out in direct contact with the lender.
A Personal Installment loan requires the same monthly income as a P2P loan, but requires a lower credit score (580+) and allows people on benefits to apply for a loan. Its upper limit is $20,000, so it's smaller compared to a P2P loan. Keep in mind that it is also limited by state regulations (LoanStart based its example on California, where loan amount varies from $2,000 to $20,000 with 30 to 95 percent interest rates).
Bank Personal loans, as the name implies, are those loans where the local bank acts as a lender. Though it is possible to apply online for this type of loan, the banks usually request a live meeting at a local branch to complete the application process. The minimum income for this type is $3,000 per month, employment or self-employment, and a credit score of 580 or better. The major advantages of these loans are (usually) fixed rates, but rates, as well as other terms and conditions, vary from bank to bank.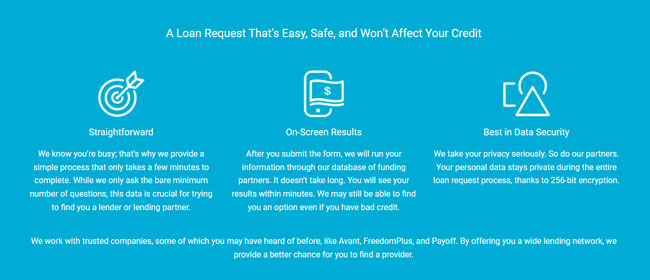 LOAN APPLICATION INFORMATION
Loan application with LoanStart requires the usual set of information: name, address, social security number, employment details, and loan reason, which ranges from debt consolidation, home improvement, medical bills, car repair, taxes, vacation, weddings, etc. The reason for one's loan is disclosed to the lender, but the entire application process is certified as McAfee secure.
REPAYMENT TERMS
Repayment terms and conditions are worked out directly with the lender – Loan Start acts as a liaison, getting in touch with potential lenders on your behalf. Though there are certain examples of APRs (annual percentage rate), Loan Start doesn't offer guarantees that APRs offered by lenders will be exactly the same. Furthermore, APRs and other loan terms vary according to different types of loans.
SUMMARY
All in all, our LoanStart review is an excellent place to start looking for a loan – it has a solid network of lenders and offers different types of personal loans with a low credit score requirement, with the option to fill out the application online. While LoanStart cannot guarantee APRs or loan terms, its affiliate lenders are obliged by FTC's Fair Debt Collection Practices Act and Consumer Financial Protection Act (CFPA). It's a great choice for a quick, reliable loan which will help you get back on track.