LoanMax is one of the most respected loan companies in America. It was founded back in 1990 as Instant Cash Loans on Car Titles, Inc. Its headquarters are in Jonesboro, GA, but it also features a wide network of affiliates in more than 20 states nationwide.  
The company implements a quick and hassle-free approval process, with straightforward and transparent terms. It also pays great attention to high-quality customer service and provides its users with honesty and integrity. This is what helped LoanMax stay in business for nearly 27 years now. 

So, if you're in need of some quick cash to bridge the gap to the next salary, LoanMax will provide excellent options as long as you own a vehicle to use as collateral. Read all about the company and its service in our dedicated LoanMax review. 
Pros
Quick approval
No credit checks
Minimal paperwork
Flexible repayment terms
No prepayment penalties
Excellent privacy policy
How LoanMax Works
LoanMax offers an attractive alternative to selling your car in a financial pinch. Car title loan companies are not interested in your credit score and they'll never perform any checks, which is excellent news for individuals with poor credit rating. With LoanMax, your car is basically your credit.  
You can borrow anywhere between 100$ and 10,000$ from LoanMax, depending on your state and the value of your vehicle. 
Getting a loan from LoanMax is easy and quick. You'll start by entering your information into the "How Much Cash Can I Get" section on the official website and clicking the "Get Started" button afterward. You can also reach LoanMax by phone if you wish to speak to one of its representatives. There's also a Spanish phone line available. 
You'll proceed to find its nearest office and bring your vehicle there. Note that your car must be paid in full and clear of any liens. If you're unsure whether your car title is lien-free, you can call LoanMax customer service anytime and they'll be more than glad to help you with that. Apart from your car and car title, you'll also have to bring a photo ID with you. 
While you're filling out a simple application, LoanMax's team will perform a quick evaluation of your car to determine the amount of money you qualify for. LoanMax representatives will then thoroughly explain all the conditions, terms, and repayment obligations before they allow you to sign any paperwork.
The steps so far take about 20 minutes. So, 20 minutes after you arrive at one of LoanMax locations, you'll be leaving with your car and the amount of cash you needed/qualified for.
Note that you'll have to visit one of LoanMax offices even if you apply online since you'll have to sign the corresponding paperwork, bring your vehicle in for evaluation, and receive cash.  
Application Process
In order to apply for a loan with LoanMax, you'll have to provide the following information: 
Personal info – First and last name, phone, email, ZIP code, date of birth, your car age, make, model, and series;

 

Address info – Street, apt/suite/etc, city, state, and primary language;

 

Car Info – Tag, Title number, title county, state, color, mileage, and VIN;

 

Identification/Employment info – SSN, title, day paid, pay frequency, years at employer, months at employer, yearly salary, place of employment, phone, phone ext, supervisor, street, city, state, apt number, and ZIP. 

 
After you complete your online/phone/in-person application, you'll be contacted by LoanMax representatives to perform the steps described in the previous section of this LoanMax review.
Self-employed and unemployed individuals are also eligible to apply for a loan.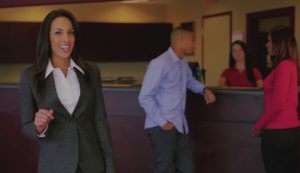 Many of LoanMax's clients are self-employed contractors looking for working capital to meet expenses or buy supplies. Moreover, LoanMax is an excellent option for self-employed borrowers due to its quick approvals and small business expertise. Discriminating against the borrower's source of income is prohibited by federal law; therefore, LoanMax allows unemployed individuals to apply as well. They'll have to consider your unemployment benefits, though, alongside your potential start date for a new job or incomes of any individuals who can co-sign on the loan.     
Repayment Terms
Payments on single installment loans are due in 30 days. Multi-installment loans are due on a monthly level.  
LoanMax allows you to make payments as often as you want and as big as you can afford.  
This is what makes LoanMax stand out from the rest of the competition. So, if you want to make payments every week or every two weeks, you can implement such an arrangement into your loan contract. 
LoanMax will never charge any prepayment penalties.     
The accepted payment methods include cash, money orders, debit cards, Western Union, and cashier checks. Online payments are an option as well.  
Rates & Fees
LoanMax rates and fees depend on your state. For example, a lien fee can be 33$ for Texas titles, 35$ for the state of Delaware, etc. APR is usually 300%, which is pretty standard for short-term title loans.  
Additionally, if you fail to make your payment 10 days after the scheduled date, you'll incur a late fee, which can't go over 5% of the unpaid amount or 7.50$.  
If you default your debt, LoanMax may charge extra fees for ADR, court, and other collection costs. Additionally, the borrower will be charged any potential repossession and sale costs.  
Bottom Line
LoanMax is one of the best car title loan companies on the market. It doesn't just lend people money in a pinch, it also tries to make loans as bearable as possible and not as stressful as they can be.  
The support staff will work with you to find the best option for your circumstances and offer the most satisfying solution. They'll also allow you to set your own loan term and payment frequency. The APR is quite high, but quick cash without checking your credit rating usually comes at a high price. That's why people take short-term car title loans only when they absolutely have to.    
We hope our LoanMax review familiarized you with the company and its service and helped you make the best decision to solve your financial problems.