Max Cash Title Loans has built a fast-growing nationwide network that brings together title loan lenders and people in need of fast cash! Their aim is to match people up for mutual convenience and easy transactions. Regardless of where you are based in the States – East or West Coast – through this loan company you can get instantly connected with many suitable lenders from your area who can fund you in no time with a great interest rate based on the equity of your vehicle. Their primary goal is to provide high-quality loan service to all their clients. In keeping with their impeccable work ethic and professional standards, they strive to underline these core values: excellence, service, encouragement, strength, diversity, support, and community. For more in-depth information, read our Max Cash Title Loans review.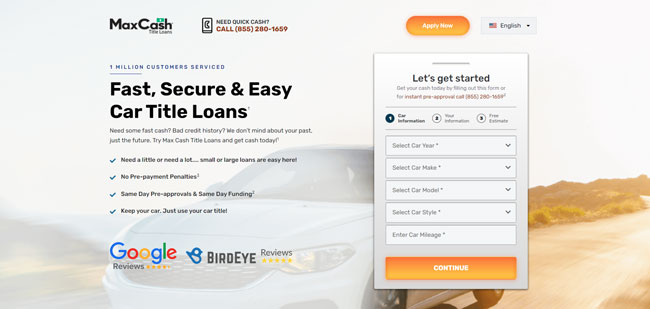 LOAN FEATURES
Just think how amazing it would be to get your account loaded in 72 hours or less! With Max Cash Title Loans, this is possible, as their team will go out of their way to help you get your money expediently with a 60-second pre-approval. You will also get introduced to specially trained staff members called VIP ADVOCATES who can help you get your cash even faster – in same cases, during off hours and on weekends too. And their work won't cost you a dime if you opt for the "VIP customer" program.
This experienced loan company offers you some of the most convenient borrowing options if you have little or no credit at all; past bankruptcy won't limit your borrowing capacity. That is one of the best features of this car title loan service where you can get up to $50,000! Plus, you don't have to be officially employed to qualify at Max Cash Title Loans. And you should know that they give no pre-payment penalty, unlike many other loan companies, which is why choosing them would be choosing smart!

LOAN APPLICATION INFORMATION
Once you've signed up for a loan, you will get an email to confirm the request and then you will be notified about the amount that your vehicle has pre-qualified for. If you decide to accept the terms, you will be asked to fax or email all the necessary documents which will be immediately examined by their staff. These include a government-issued photo ID, free and clean title, references, insurance, and a social security card. Finally, the money will be either deposited to your bank account or given to you in cash. You can choose to get the money yourself by driving to a specified location, have the lender come to you with the loan document and a check or get your funds on a debit card.
REPAYMENT TERMS
Max Cash Title Loans is a mediator between potential lenders and customers. As such, they allow you to narrow down your search and find the most suitable match in your area or elsewhere. The repayment terms will vary as will the rates, but these will be determined based on several qualifying factors. The most important one is the equity value of your vehicle. You don't have to be employed but you will be required to show that there is some source of income to cover the payments. And you should keep in mind that this is a short-term loan service tailored to find speedy financial solutions based on your personal preferences and demands.
SUMMARY
You can finally get your finances all sorted out with the fantastic option presented in this Max Cash Title Loans review! This loan company will put you in touch with a host of potential lenders and approve an appropriate title loan for you based on the equity value of your vehicle. There are no pre-payment penalties and with an expert team of live agents available to assist you through online chat, you can get reliable info about anything that interests you about their loan service, payment policy, eligibility, etc. It's always great to have immediate access to a group of friendly professionals who can guide you step-by-step and help you with your decision when it comes to title loans. And for those seeking extra help, there's always a special VIP loan program available at all hours.