MaxLend is a company launched in 2013 that advertises as an alternative solution to payday loans. The said loans are an option to consider only if you find yourself in financial trouble and have bad credit score. They come with astronomic rates and short repayment terms, so you should opt for them only if you have absolutely no other way out. That being said, we haven't seen any major differences between payday loans and the loans that MaxLend has to offer.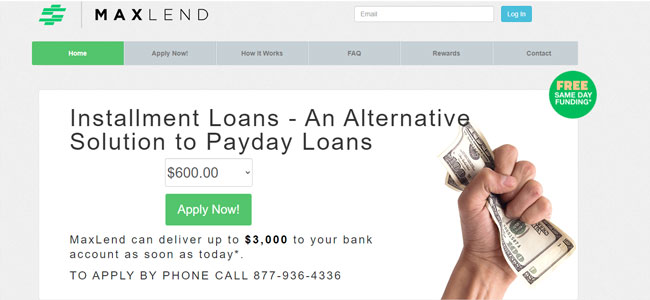 Furthermore, MaxLend is owned and controlled by the Hidatsa, Mandan, and Arikara Nation, which are all federally-recognized sovereign American Indian Tribes. As always, we'll advise caution when borrowing from tribe-owned lending companies since they cannot be subject to federal litigation without explicitly renouncing their sovereignty.  On the other hand, being controlled by an Indian Tribe is not an inherently bad thing, plus MaxLend does offer a number of interesting lending options and features, so stick around and learn all there is about their service in our exhaustive MaxLend review.   
Pros
Simple application process

 

Lower requirements than with traditional lenders 

 

Quick approval

 

Low credit score doesn't disqualify you from applying

 

No prepayment penalties

 

No credit rating reports requested

 

Excellent user support

 
Cons
High rates

 

Not available in some countries

 
How MaxLend Works
MaxLend has a very simple business model, allowing customers to receive the funds they need as quickly and effortlessly as possible. The procedure includes the following steps: 
Filling out the online loan application will only take a few minutes. If you're approved for a loan, you can sign your loan documentation online right away.
You can then call the company to verify your information or the customer representative can call you. Once your info has been verified, you will receive a copy of your application by email. You should print it and save it for your records.
In the final step, MaxLend will simply deposit the agreed amount to your bank account.
The lender will typically not check your credit score, but it's not definitive whether it'll be impacted by your application with MaxLend.  
Note that MaxLend doesn't conduct business in Arkansas, Georgia, Connecticut, Minnesota, Massachusetts, New York, Pennsylvania, North Dakota, Vermont, West Virginia, and Washington.  
If you have any additional questions, you can always contact their user support and receive all the answers from knowledgeable and professional representatives. You can also apply for a loan over the phone, bypassing the entire online application procedure.    
Application Process
The basic requirements for application are quite lenient compared to most banks and traditional lenders. Here's what they include: 
Proof of a verifiable source of income deposited into your account, which meets the minimum income requirements set by MaxLend;

 

Possession of a bank checking account;

 

At least 18 years of age and the citizenship of the United States;

 

You mustn't intend to voluntarily file for bankruptcy or currently be a debtor in a bankruptcy case.
Here is a full list of information required to apply for a loan with MaxLend: 
Customer information – Loan amount, social security number, first/last name, email, home/cell phone, date of birth, and address;

 

Income information – Paycheck frequency, payroll type, whether you have recently filed or plan to file for bankruptcy, main source of income, employer name, work phone, net pay per paycheck, and next two pay dates;
Financial information –  Account number, ABA routing number, and payment method.
You can apply for a loan ranging between $100 to $2,000. Once approved, the funds will be deposited to your account within one business day.  
Repayment Terms
All MaxLend loans are usually spread across 6 months with a variable number of payments, depending on your paycheck frequency (6, 12, and 24 payments). Failing to repay your loan according to the contract will incur additional fees and penalties. All non-payment fees will be specified in your loan agreement, so you'll want to consult it in order to determine the exact numbers.  
On the other hand, MaxLend doesn't feature any fees for repaying your loan faster than agreed upon. You can also make additional partial payments toward the principal on any of the scheduled repayment dates. Paying off your loan faster than agreed upon might reduce its overall cost as well.       
Rates & Fees
APRs with MaxLend range from 471.7846% to 841.4532%, so we can't stress enough the importance of determining the exact rate for your loan by asking the representative as soon as you make contact.  
If the company's previous experience with you was positive, you can apply for their "loans with rewards" program. This is something we haven't seen before and we definitely like the idea.  
The full list of loans with rewards goes as follows: 
Green ($1,200) – Up to 180-day terms; fees of $24.50 per $100

 

Silver ($1,500) – Up to 270-day terms; fees of $21.50 per $100
Gold ($1,750) – Up to 300-day terms; fees of $18.30 per $100

 

Platinum ($2,000) – Up to 300-day terms; fees of $16.00 per $100  

 
Bottom Line
As seen from our MaxLend review, they can be a good option if you're in need of a quick loan. Note that the rates offered by the company can make a serious dent in your monthly budget, so go for this type of loan only if absolutely necessary. Furthermore, failing to make payments according to your contract will incur high penalties and affect your overall credit score.  
With that in mind, we can conclude that MaxLend is still the preferred solution when compared to your usual payday loans as it does offer lower APRs and it's clearly not your payday predator looking for unsuspecting victims with bad credit score and financial difficulties.