National Payday is a company that specializes in payday loans. It is a direct lender that guarantees fast payday loans regardless of your credit and, as such, it is very useful in situations when you need a quick cash advance. The company works in a quick and confidential manner and you can finish everything online. They are one of the oldest payday loan companies in the United States and one of the most reliable online cash advance services. Check out our National Payday review to find out whether this company fits your needs.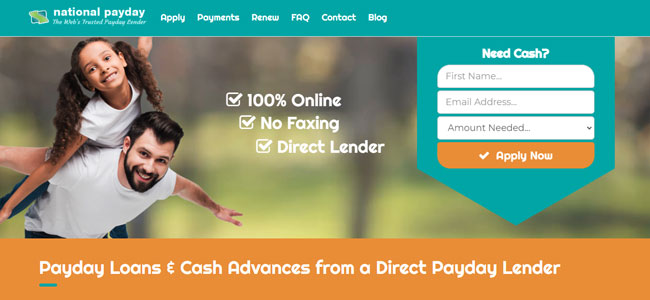 Pros
Quick, instant application processing
Great approval rate
No faxing required
Credit rating is not a factor
Cons
Unclear repayment and collection terms
Chance for a very high APR
How National Payday Works
As its name suggests, National Payday is a payday loan company. Payday loans are loans that you are supposed to repay when you receive your next paycheck – on your payday. Those are usually small amounts of cash with a high interest rate and are ideal when you are in dire need of an urgent cash injection.
National Payday is a direct lender. If you are not familiar with this term and if you are wondering why you should care, here's the deal: a direct lender is a company that actually lends you the money, instead of just connecting you with a third-party lender, as some loan companies do. When you deal with a direct lender, you get the money directly from them, under their guaranteed terms and conditions. Things are more transparent that way and, more importantly, your personal information is safer because it doesn't get passed on to anyone else.
National Payday is an online payday loan company that processes your application quickly and even offers same day cash loans, provided you apply on time (read more about that further down in this National Payday review). You can finish everything online, without having to leave your home or your office, which is definitely convenient. This goes for repayment too.
As we already mentioned a couple of times, National Payday is very quick and it is even quicker if you are a returning customer. Obviously, speed is their strongest suit, along with reliability, privacy, and security. This is also a very confidential and trustworthy service – they promise their agents will be as discrete as possible when they contact you for whatever reason, as they understand that for many people having money issues (and thus having to resort to getting a payday loan) can be quite embarrassing.
As for the amount of money you can borrow, the first loan usually goes from $100 to $400 whereas returning customers can borrow up to $1000.
Finally, in order to get a cash advance through National Payday loan, you will have to be at least 18 years old, have no more than one payday loan you haven't repaid yet, have a checking account for at least three months with no bounced checks and overdrafts, and a job, of course, where you earn a minimum of $1000 per month.
Application Process
To get a loan through National Payday, you need to fill an online application form, which the company will use to determine whether you are eligible for a loan. The application is processed rather quickly and you will know if you are approved within minutes. If you applied before noon on a work day, you will get your money by the end of the day; otherwise, you will have to wait until the following day. The cash advance can be wired into your checking account, which can be done the same day, or electronically deposited, which takes a business day.
It is worth noting that, after applying for the loan, you will probably be asked to provide some documentation. Many companies require you to fax those documents to them, but National Payday allows you to scan and email them, which is certainly more convenient.
National Payday claims that almost everyone gets approved, as long as they have a job and no bounced checks.
Repayment Terms
You can complete the entire repayment process online, through the National Payday website. You can choose between full payment, partial payment, and minimum payment. Basically, you can pay as much as you want, as long as it meets the minimum payment requirements. For minimum and partial payments, you simply enter your next check number and your next payday date. When the date arrives, the company will automatically withdraw the funds from your account. Partial and minimum payment options are allowed to those who receive their paycheck twice a month while those that only receive it once per month have to make a full repayment.
The deadline to make a repayment request is 2:00 PM EST the business day before your due date. Bear in mind that, if you opt for the minimum repayment, you are basically just paying the 25% cash advance fee and your loan is actually rolling over until your next payday. Every time you fail to make a full repayment, this fee is added to your debt. You can do this up to five times, after which time the total amount of your loan will be deducted from your account.
The National Payday website is not very helpful when it comes to the information regarding collection practices or what happens if you don't pay anything at all, not even the fee, which is usually a sign you should be very cautious and make sure to make full payments as soon as possible.
Rates & Fees
The loan fee or the finance charge is 25% of your loan. For example, if you borrow $200, the fee will be $50 and the amount of money you will have to repay will be $250. For a loan of $300, the fee will be $75, so you will have to repay $375.
As for the APR, it depends on your loan term or the number of days (7, 14 or 16) and on the amount of the money you borrowed and goes between 506.94% to 1303.57%.
Bottom Line
As you can see from our National Payday review, this is a company that offers a quick, easy, and reliable solution for your cash needs in the form of quick payday loans. As you probably know, this type of cash advancement is not recommended unless you are in dire need of money, but on the bright side, you do have to repay it quickly so the chances of having a large accumulated debt are not very high. National Payday pride themselves on high approval rates and their general requirements really are quite loose, so as long as you have a job, are not underage, and don't have bounced checks, you will most likely get approved for a payday loan. On the other hand, be careful with the repayment, as their terms are not exactly clear and you definitely don't want to end up with some extra fees and other expenses you didn't count on.