A collateral loan is a type of loan that is secured by an asset you own, such as a car or a house. You are required to hand the asset over to the lender if you cannot repay your loan as agreed. This way, the person or company handing out the loan takes less risk, making it easier for you to get the loan.
All you need to do is find a good company before you apply for a loan, which is easier said than done. You have thousands upon thousands of lending companies to choose from, so you should take your time to make certain that you have found a company that will meet your financial needs. We'll introduce one such company right here in our dedicated TFC Title Loans review.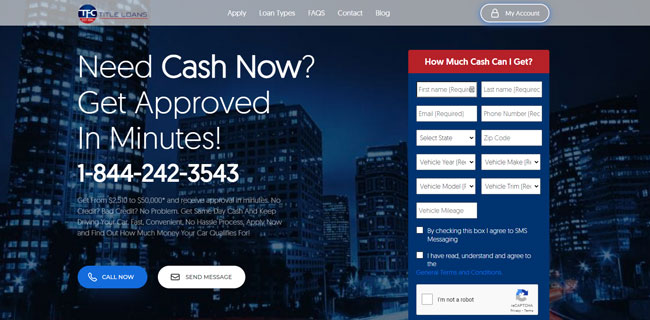 TFC Title Loans is headquartered in the heart of downtown Los Angeles. The licensed lender gives auto title loans to residents throughout the states of California, New Mexico, and Arizona. They claim that they are much more than just a company that hands out loans – they are a company that is hell-bent on helping those in need.
They are aware that times can be tough and that finding a way to pay for your bills, school tuition or medical emergencies can be quite difficult, which is why they are here to lend you the money you need to put some of your affairs in order. TFC Title Loans has a number of agents who are available to help you through the entire application process and to provide you with all the information and answers you might need.
LOAN FEATURES
A title loan is a type of a collateral loan, meaning that the amount of money that you are eligible for is based on the collateral that is used. In this particular case, the amount of money you can receive is based on the wholesale value of your vehicle. If you are to receive a title loan, you need to hand over your vehicle's title over to TFC Title Loans. They then become the vehicle's lien holder.
The benefits of a title loan are many. The first (and, according to some, the most important) thing is that you actually get to keep your vehicle after getting a loan. Secondly, TFC offers more cash than their competitors. You can get up to $50,000 and there are no hidden fees or prepayment penalties.
LOAN APPLICATION INFORMATION
As far as eligibility is concerned, pretty much anyone who is over the age of 18 and has a stable source of income can apply for TFC's loans. The application is quite simple and straightforward. Basically, it takes just minutes to complete the application form. Additionally, you will know whether your loan has been approved in just 15 minutes.
TFC Title Loans offer their clients three different ways of applying for a loan. You can either browse their website and find their easy-to-use submission form, call their toll-free number and apply over the phone or you can click the chat button, where a representative of the company will be more than happy to assist you. Once your loan has been approved, you can either pick up the money yourself or choose to have it delivered.
REPAYMENT TERMS
Since there are no hidden fees or prepayment penalties, as already stated in this TFC Title Loans review, you are allowed to pay off your loan whenever you want, as long as your deadline doesn't exceed 36 months. On average, people take loans with two-year deadlines, which is more than enough to pay the entire amount back.
Unlike some loan companies, TFC Title Loans allow you to keep and drive your vehicle while you are paying off the loan, which is good news for people who have to drive to their workplace.
SUMMARY
After all is said and done in this TFC Title Loans review, we can honestly say that if you're looking for a professional and stable title loan company that's been around for quite some time and knows their way around the business, you can probably stop right here. TFC Title Loans is one of the leading names in the title loan industry – and with good reason.