TMG Loan Processing is a company specializing in title loans. For a title loan, you use your own car or motorcycle as collateral in exchange for money. This is a very convenient and fast way for people who own a vehicle to get some funds very quickly. TMG is a respected, trustworthy company that recently partnered with ConsumerAffairs as their car title loan processor. As our TMG Loan Processing review will show, they are not a direct lender, but rather a service that puts you in touch with one of the lenders in their partner network.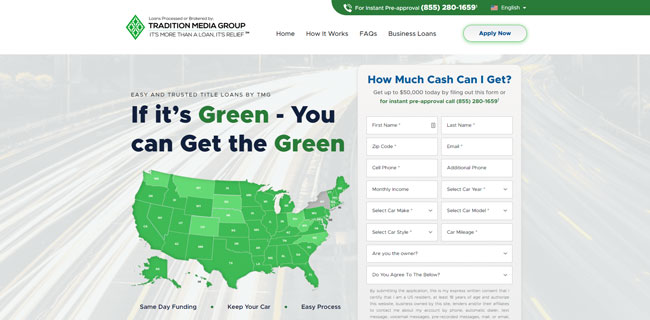 LOAN FEATURES
TMG Loan Processing allows you to get some funds quickly by using your car as collateral. The car has to be on your name, i.e., you have to have a title on that car. It doesn't even have to be a car – it can be any kind of vehicle, including motorcycles, as long as you have the title.
If you wish to apply for a TMG title loan, you can do it online, via telephone or you can use the live chat on TMG's website. Next, you are asked to provide some information so the company can decide whether you are eligible for a title loan. Applying, as well as receiving a quote on your vehicle, is completely free of charge, even if you don't end up getting approved. You don't even have to accept the loan you are offered.
As we already mentioned in our TMG Loan Processing review, they are not a direct lender. The company uses your application info to match you with one of the lenders they are working with. Once they find a match for you, you sign the loan agreement and get the money the following business day.
The process is very simple and fast. You can do it in the comfort of your own home, without having to bother looking for a company branch. The service is available 7 days a week and the customer support staff is very friendly and helpful.
The amount of money you can borrow depends on several factors, but most of all on your vehicle's equity value, as well as your ability to make regular and timely payments. However, bear in mind that TMG Loan Processing does not offer unlimited loans – you can "only" borrow up to $50,000.
Title loans are convenient because they use your vehicle's value as collateral and are thus available even to people with less-than-perfect credit scores, who normally can't get a loan. Plus, the service is incredibly quick, ideal for those who are in a dire need of instant cash.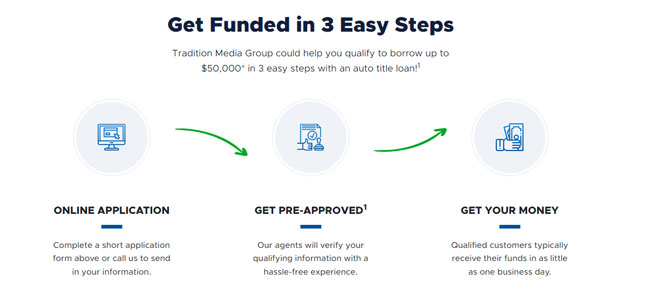 LOAN APPLICATION INFORMATION
In order to apply for a loan via the TMG Loan Processing website, you will need to fill in an online application form, which is very conveniently located on the website and works very quickly. You will be asked to provide your full name, city, and state of residence, as well as your zip code, the amount of your monthly income, and some information about your vehicle – year, make, model and, in some cases, mileage. You will also need to specify whether you own the vehicle in question or not. If you do not own it, you will not be eligible for the loan.
After this, you may be required to provide some additional papers regarding your bank account, car title, and such.
The procedure is similar for applications made through their live chat or by the phone, except that in those cases you will have direct assistance should you encounter any difficulties or have any questions.
Once you complete the application form, the agents will verify your information, which normally doesn't take long. If you qualify for a title loan, the funds will be transferred to your checking account the following business day.
REPAYMENT TERMS
Repayment terms and conditions will be included in the contract you sign after you get approved for the loan. Unlike some other loan companies, TMG Loan Processing allows early payments, for which they do not charge any additional fees. The vehicle, of course, stays with you and you can use it as you normally would while you're repaying the loan. Only the title is held by the company as collateral. Once you repay the loan, the title will be given back to you.
SUMMARY
TMG Loan Processing is a good company for you in case you need a loan company operating with moderate amounts of money and you don't want to deal with a bank or you don't have a credit score good enough to get another type of loan