1(800) Car-Title is a California-based lender specializing in title loans and title loan refinancing for automobile, motorcycle, and recreational vehicle owners in Arizona, California, Georgia, Idaho, Missouri, New Mexico, South Carolina, and Utah. If you ever find yourself in a situation where you need money quickly, a title loan may be just the thing you need, especially if your credit history leaves a lot to be desired. Keep reading out 1(800) Car-Title review to learn more about this company.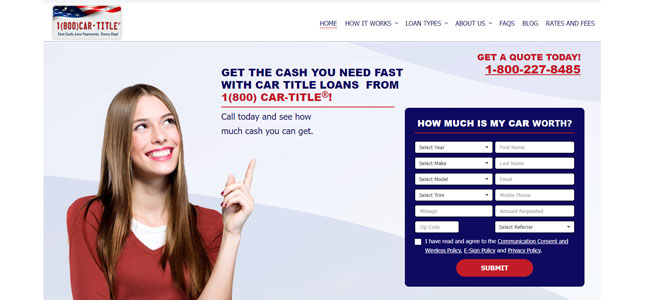 LOAN FEATURES
So, how exactly does a title loan work? It's actually pretty simple. Essentially, your car needs to be worth more than the amount of money you're looking to borrow because your car becomes the collateral for your loan. With 1(800) Car-Title, the minimum loan amount varies from state-to-state. Generally, it's between $2,000 and $3,010 and goes all the way up to $50,000. Motorcycle owners can borrow up to $4,000 against their bike title. Best of all though, regardless of the loan amount, you get to keep driving your car, cycle, or RV while you're repaying the loan.
Title loans are especially helpful for those individuals with bad credit or even no credit at all. Namely, with title loans, the decision to approve your loan isn't based solely on your credit score; it's based on the value of your vehicle along with your ability to repay the loan. And if you're a well-qualified customer, 1(800) Car-Title even offers a Gold Program that includes such perks as a faster verification process and annual percentage rates as low as 35.99%.
What we particularly liked while researching for this 1(800) Car-Title review is the company's Cashback Program that is available to all members. Through this program, it's possible to earn up to 3% back over the course of your loan repayment period. Simply make your payments on time every month and 1(800) Car-Title will reward you with 3% back every six months for the term of your loan. It's like getting paid for repaying your loan on time!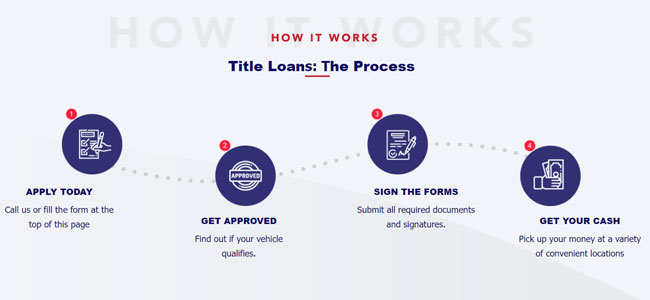 LOAN APPLICATION PROCESS
You begin the application process on the company's website by filling out the required information on a short application form. From there, one of 1(800) Car-Title's loan officers will contact you in just a matter of minutes to take the rest of your information. Any required forms and paperwork can be easily and securely submitted online and you can get a loan decision in just a matter of minutes. More importantly, there are no application or processing fees for you to worry about.
Once you've been approved, your money can be sent to you via electronic deposit or MoneyGram if you need it fast or by a snail-mailed check if you've got a little more time on your hands.
REPAYMENT TERMS
With 1(800) Car-Title, you pay your loan back over a period ranging from 12 to 36 months. Of course, interest rates vary from state-to-state and from loan-to-loan but can be anywhere between 35.99% and 199.99%.
1(800) Car-Title can accept payment online, by phone, by Western Union wire or a MoneyGram, via free automatic e-payment every month, and by personal check or money order via regular or overnight mail. The company does report to the three major credit bureaus so making your payments on time and as agreed can actually help you improve your credit score or build your credit if you're starting out from scratch.
What if you pay your loan off early? No problem; 1(800) Car-Title does not charge a penalty fee for loans paid off ahead of schedule.
SUMMARY
Finishing off this 1(800) Car-Title review, we can conclude that a title loan or a title loan refinanced through 1(800) Car-Title can be a viable option if you're low on cash and time. With its short and simple application and quick decision-making processes, 1(800) Car-Title focuses on making your money needs a thing of the past. While other lenders charge higher interest rates that can take advantage of a person when they're in need, 1(800) Car-Title prides itself on its competitive rates and ability to help those with bad credit. Bottom line, they could offer just the solution you're looking for.