CashNetUSA is a direct loan company that, unlike other companies in the same area of business, doesn't just offer one-time payday loans – it also offers lines of credit that you can use every time you are in need of extra cash. The money is readily available and the service is very quick and efficient. If you are interested in finding out more about this company's excellent offer, keep reading this unbiased CashNetUSA review.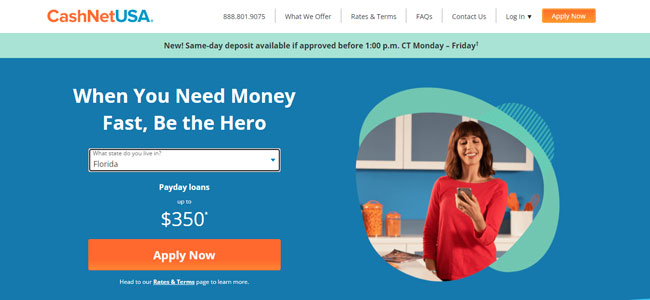 LOAN FEATURES
Payday loans are very convenient because they allow you to get the money you need quickly and hassle-free, which is great for situations when you simply cannot wait for your next paycheck. That's why there are so many payday loan companies on the market. However, CashNetUSA is one of the rare companies that offers not just one-time payday loans but also actual lines of credit against which you can borrow money anytime you want or need to, without having to reapply. This saves you a lot of time and is a perfect solution for people who often have difficulty making it to the next payday.
Of course, there are certain risks associated with this kind of practice, as a readily available loan is very seductive and people sometimes end up borrowing tons of money and later have a hard time paying it back. However, this is the case with all loans, regardless of the company.
Customers only have to apply once and they are instantly informed whether they are eligible or not. In most cases, they receive a positive answer, as CashNetUSA is willing to work even with those with less-than-perfect credit scores. Next, the company decides on the credit limit and the client can draw money in the amount up to that limit. The cash is usually available the next business day.
This service is very convenient since it is quick and can be done online. You can even do it on your phone by logging into the company's website.

LOAN APPLICATION INFORMATION
There are certain criteria a client has to meet in order to be eligible for a loan. They have to be at least 18 years of age, employed at least one month prior to applying for a credit line, be a permanent USA citizen, and have an active checking account. Also, certain CashNetUSA services are not available for residents of certain states. Their website has a convenient state checker which tells you immediately whether you are eligible based on your state of residence.
As we said earlier in this CashNetUSA review, the company approves loans even to those who have previously been rejected by other loan companies. As long as you are not bankrupt, you're probably good to go. Once you complete your application, you will submit it for consideration. The company will email you with the results and if you are approved, you will receive the funds either the next business day or on the following Monday if your application as made between Thursday and Sunday.
In some cases, you will be asked to provide proof-of-income, for example if you receive alimony, disability benefits, social security benefits or if you are self-employed. These documents should be either faxed or scanned and emailed to CashNetUSA.
REPAYMENT TERMS
When it comes to repaying your loan, you can choose between repaying over time or in full. Your options include Minimum Payment, which includes paying the interests accrued in the previous cycle plus a percentage of the total balance and the fees at the end of each billing cycle, Additional Payment plan, in which you can opt to make additional payments on top of the Minimum Payment and thus repay your loan earlier, and Pay in Full, which is self-explanatory and can be done at any time without any early payment fees.
The more you repay, the higher your credit limit goes. The payments will be automatically deducted from your account when you are due, but the exact terms of repayment, as well as the due dates, will vary depending on your loan terms, for example on how much money you borrowed.
If you don't have enough funds on your checking account to make the payment, you should contact the company immediately so you can set up different payment arrangements. In case your debit is unpaid, CashNetUSA will initiate the collection procedure, which is not something you want to happen. 
SUMMARY
Based on all the information stated in this CashNetUSA review, we can conclude that this company's loans are the ideal solution for people who find themselves in need of extra cash before their paycheck arrives. It should not serve as a long-term solution, of course, because of high interest rates and other expenses, but it's very convenient for those who want to get a payday loan more than just once.