= = = = Important Update = = = = 
As of late 2019 LendUp is no longer offering any types of loans. They are offering a series of free online education courses designed to boost your financial savvy fast. If you're looking for a company like LendUp we recommend you check out our comprehensive Check Into Cash review.
= = = = Important Update = = = = 
Generally speaking, we live in a world where money is the #1 concern in every person's life. In order to do pretty much anything, you need a stack of cash in your pocket. If you're planning on doing something serious, like paying for college, running a small business or buying a house, you're going to need some serious coin to pull it off.
That's where loans come to the rescue. Whether they are commercial or personalized, loans allow you to get ahold of a large[r] amount of money in a short time period and then gradually pay it off with interest. Of course, getting a loan always involves some risk, as you are required to pay it back on a monthly basis.
This is the point where you have to be careful and choose the right loan company. Continue reading this LendUp review to find out if LendUp is the best choice for you.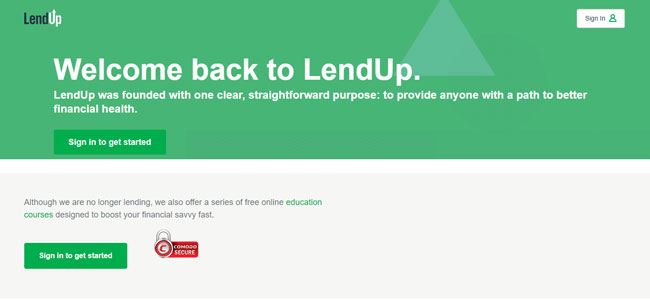 LendUp was founded by a group of engineers, designers, Ph.Ds, and community developers who decided to come up with their own solution for the small-dollar credit problem, which is getting worse and worse with each passing day. They come from various backgrounds, dedicated to providing the best, safest, and easiest way to get money when you need it the most.
LendUp is based in San Francisco, California. They have been giving out loans for more than five years to thousands of satisfied customers. Their policy is focused on making sure that nobody is damaged in the process of paying their loans back while offering better interest rates for recurring clients.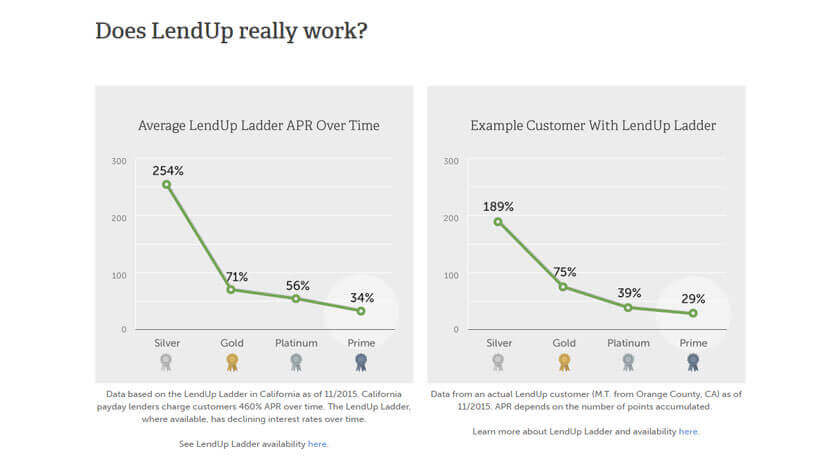 LOAN FEATURES
LendUp has had quite enough time to prove that there's a reason so many people opt for their services. One of these reasons is safety. LendUp operates under a "no debt trap" policy, which basically means that you shouldn't fear any rollovers or refinancing. It's a safe loan that puts you in control. The company claims they don't want to earn money by tricking their clients.
LendUp is also one of those companies where every business is transparent. This is a necessity when you want to encourage responsible borrowing. All the terms are as clear as broad daylight, leaving little to no room for doubt and speculation.
As we've mentioned earlier in this LendUp review, they feature a ladder system where customers are put on a path to more money at rates that become lower and lower the more you progress on the ladder.
Additionally, the company is proud to comply with all state and federal regulations. This is also the only way to provide their customers the ultimate protection.
LOAN APPLICATION INFORMATION
The application for a LendUp loan is as standard as it gets. You are required to enter your e-mail, choose a password, and accept the terms of agreement. After that, you are taken to a different page where you have to provide your personal information, including your full name, address, social security number, mobile phone, DoB, address, city, state, ZIP code, and a reason for your loan.
After you have completed the form, you proceed to the verification page. There, you will virtually sign a document that obliges you to pay your loan back on time or risk resolving the issue in court.
REPAYMENT TERMS
Since the company offers both short-term and long-term loans, the repayment terms differ depending on the type of loan. If you choose the short-term loan, the maximum amount of money you can borrow is $250 and the deadline mustn't surpass 30 days. If you opt for a long-term loan, the interest rate drops slightly, you don't have a limit on your deadline, and you repay in installments.
SUMMARY
If you're in need of some quick cash and want to borrow it from a respectable company, LendUp is ideal for you. It's also important to keep in mind that you will receive benefits for each future loan.