The initial step for our dedicated LoanMart Car Title Loans review would be to recognize it as a leading auto title loan company that helps a growing number of people get their funds quickly and hassle-free. Since its inception in 2002, the company has spread and developed more expedient ways of direct car title lending, which allow its many customers to get the money they need in a professional, timely manner.
LoanMart may occasionally act as a broker for the loan, too, giving you a chance to choose and modify your payment preferences. With an expert team of friendly loan agents, LoanMart is eager to assist you should you have any questions or concerns. That is why they present you with more flexible borrowing options than those you might find in banks or other less developed loan companies. LoanMart is the best option for many car owners nowadays, especially those dealing with credit issues or those in need of expedited funding.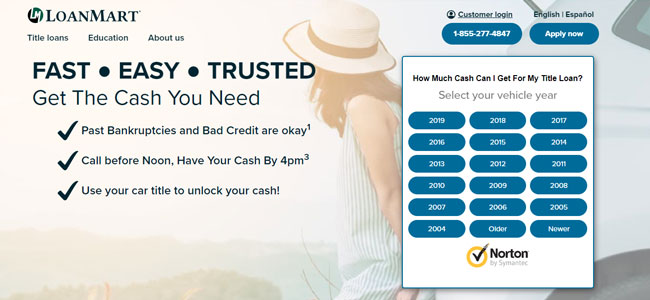 LOAN FEATURES
There are quite a few interesting features we'll need to outline in our Loan Mart Car Title Loans review, which set it apart from other lending companies.
Firstly, they are known for providing customers with exceptional service while holding on to the "reasonable pricing" policy. Therefore, you will find that LoanMart strives to keep their rates competitive, allowing you, enough auto title options to choose from. So, you may rest assured that they will come up with a perfect solution tailored just for you.
Secondly, at LoanMart you can get up to $50,000 for an auto title loan! The amount of money you get is determined by several qualifying factors such as the equity value of your car, which is a great advantage compared to other borrowing options that are at your disposal. This means that despite your bad credit score, you might still get a chance to get funded if you qualify with LoanMart.
And finally, you will notice that LoanMart has created an easy-to-follow, transparent application process with no hidden costs. You can choose whichever method you prefer – sign up for services online, via chat or by phone. Another great point about LoanMart's system is that you can do so with no additional fees, as applying for an auto title loan at the company is free of charge.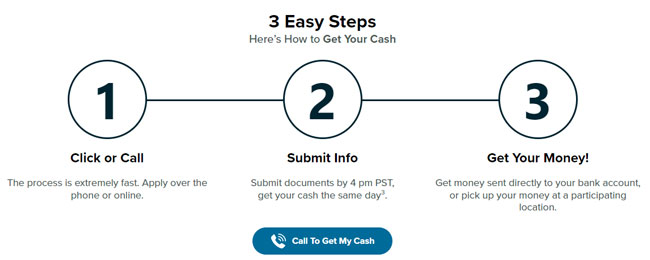 LOAN APPLICATION INFORMATION
So, how can you apply for a car loan at LoanMart? It's easy and fast! As mentioned above in our LoanMart Car Title Loans review, you have several ways of going about it: you can apply online, by phone or even live chat. A qualified team of agents will be at your service and glad to assist you through this process. Another upside is that you can get started with the process any day of the week.
REPAYMENT TERMS
Once you have completed the sign-up process, you will be asked to verify the information and sign your loan agreement. The next step is, of course, getting the money! When it comes to repayment, you will most certainly be glad to hear that LoanMart allows their qualified customers to repay their car title loans ahead of time. And since LoanMart does not charge any additional fees or penalties for early payment, you can choose to repay your auto title loan whenever you find it suitable.
SUMMARY
After thoroughly reading our LoanMart Car Title Loans review, you won't have to bother with regular bank loans or worry about the precarious credit score anymore. LoanMart simplifies things for you in a time-saving manner while seeking to meet your specific financial needs at competitive rates without the usual limitations or requirements you might find with traditional banks.
You can sign up online, by phone or use LoanMart's chat service and get up to $50,000 for an auto title loan in as little as one business day! The whole sign-up process is free of charge and if you decide to repay earlier, you won't be charged extra money.