Buying a new car is no easy decision – it's up there next to home purchase and changing jobs. But if you are in dire need of a new vehicle and also short on cash, there are many ways to get the much-needed money. One of them will be introduced in this RoadLoans review. It's a company that specializes in loans for the purchase of new or used vehicles, as well as loans for refinancing your existing, car-related financial obligations. A part of Santander Consumer USA Inc., RoadLoans is geared toward clients who have bad credit scores and aren't able to get a traditional bank loan. They offer a variety of interesting options for potential clients who want to buy a car or refinance a car loan.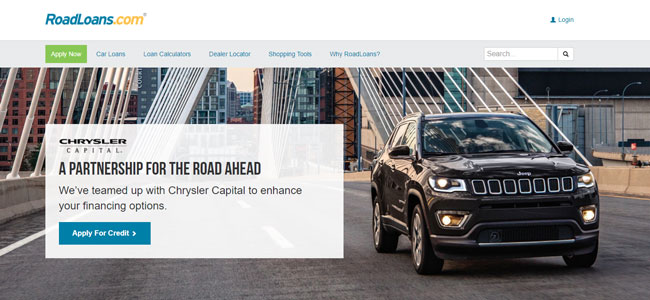 LOAN FEATURES
You can apply online for a classic loan with the intent of purchasing a new or used vehicle or a refinance loan with the intent of refinancing your existing car loan. They claim that once you apply, you'll get an answer by email within 30 seconds. They have both Android and iOS apps. RoadLoans also provides various calculators on their website: a budget calculator, a car loan calculator, a fuel savings calculator, and so on. This is great because you can easily check and see how much money you can spend on a new vehicle. RoadLoans also accept clients with a bad credit history. However, there are several limitations.
First, the minimal loan amount is $5,000 (it also might depend on the state you're living in – it's $10,001 in Arizona) while the maximum amount goes up to $75,000. You cannot take out a loan for salvage or flood vehicles, as well as those that fall under the scope of the Lemon Law. Second, the car purchase loan can be taken only for vehicles that are nine years old or newer, with an additional requirement regarding mileage: less than 120,000 miles. Refinance loans cover vehicles which are seven years old or newer, with a mileage of 105,000 or less. If you want to purchase (or have purchased) a vehicle from a private individual, the restrictions are a bit different: 12 years or newer, up to 100,000 miles.
The third limitation comes in the form of eligible vehicles: motorcycles, recreational vehicles, and commercial vehicles are not eligible for a loan. Also, you cannot refinance existing loans with Santander Consumer USA Inc. or with Chrysler Capital. In addition, residents of the following 18 states cannot apply for cash-back refinancing: AK, AR, CT, DC, HI, KS, KY, MA, MS, NC, ND, NE, NH, NJ, NM, NV, PA, and VA. RoadLoans also adhere to the ECOA (Equal Credit Opportunity Act), which means they don't discriminate on the basis of race, color, marital status, age, and such.
LOAN APPLICATION INFORMATION
The information required for a loan application is rather standard: name, address, social security number, phone, state, and annual income. If you are applying for a refinance loan, additional information about the existing vehicle is needed: year, manufacturer, model, and mileage. There is also the option of co-application, which is always a plus. The whole application process is very secure and quick, so you don't need to worry about a thing. You can even use the phone app to apply for a loan, which is something that only few companies on the market offer.
REPAYMENT TERMS
Repayment terms depend on your available funds, down payment, monthly income, and type of vehicle. All the details and conditions of repayment are worked out after you apply for a loan with RoadLoans.
SUMMARY
While there are some limitations, our RoadLoans review showed you a company with a good reputation, specializing in car related loans and refinancing. If you are thinking about getting a new car or refinancing your existing car loan, RoadLoan might have a comprehensive solution for you, as it specialized in these types of loans and has developed partnerships with car dealers. The limits imposed aren't that strict and are mostly about vehicle age and mileage – those serve to protect both the client and the lender. Overall, RoadLoans is a great choice for any type of auto loan or refinancing.