As we're about to show in this Upstart review, this is a reliable company that offers personal loans. Based in Palo Alto, California, it was founded by ex-Google employees in 2012. Upstart has welcomed investments from groups like Google Ventures and Khosla Ventures, as well as some high-profile individual investors, such as Eric Schmidt from Google, the founder and CEO of Salesforce Marc Benioff, and Mark Cuban, entrepreneur and owner of the Dallas Mavericks.
The company operates from the Silicon Valley and brings much of that entrepreneurial and modern outlook to the way they do business. The company also garnered much attention in the press, being covered by nearly all major networks and finance websites for their unique approach.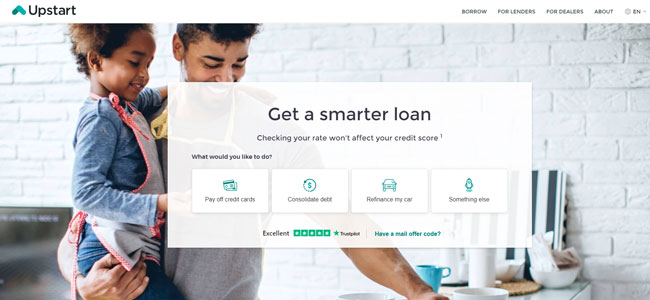 LOAN FEATURES
The main thing that separates Upstart from other personal loan companies is that they go beyond your credit history when determining whether you can take out a loan and how high the interest rates are going to be.
Namely, they also look at your education, the field of your studies, and your job history. Upstart's founders worked at Google and they realized that these are also extremely important factors when determining how people are going to behave with their loans.
Their loans can be used for a wide variety of things, such as paying off one's credit cards, consolidating one's debt, refinancing one's student loans, taking courses or boot camps, paying for further education, relocation, paying for medical bills, starting or growing one's business, paying taxes, renovating one's home or anything else you might think of.
The interest rates on their loans are much more reasonable than with the vast majority of similar companies and they range between 4.66 and 29.99% APR. The loan terms are three or five years. When it comes to the amount of money you can borrow, it ranges from $3,000 to $50,000, which is definitely a sizeable loan.
It should also be pointed out that minimum loans vary from state to state. For example, the minimum loan is $6,000 in Ohio and $7,000 in Illinois. Upstart operates in all states apart from West Virginia.
Thanks to the innovative way of looking at candidates, Upstart has found plenty of success among graduates who are burdened with student debt but who are still unlikely to default, giving them a chance to build up their credit rating for the future and actually borrow money at interest rates that are humanly possible to repay.

LOAN APPLICATION INFORMATION
Applying for a loan with Upstart is just as simple as with most other online personal loan providers, if not even simpler. Before you take out a loan, you can check your rate. It should be said that this is a "soft check," meaning it will not affect your credit score.
The first part of your rate check involves telling them how much money you would like to borrow and what your credit rating is. You are then asked about the level of education and the school that you attended, as well as other details concerning your degree. You are asked about your GPA, as well as your standardized test scores.
In addition to this, they will want to know what your source of income is and how much you are making a year. The last step is filling out your personal details, including details about your savings, any outstanding debt, and any loan history.
After a day or two, they will send you a review of your application and you can choose whether to accept their terms or not.
According to the Upstart clients we talked to while doing research for our Upstart review, the company really does care about their applicants' education and this is definitely not a marketing ploy or anything. It goes without saying that one's credit is still the most important factor, but education definitely plays an important role as well.
REPAYMENT TERMS
With Upstart, you can easily set up an automatic repayment plan, meaning you will not have to remember when and how much you have to repay. One of the greatest things about Upstart is that they will not charge you any fees or penalties for paying off your loans early.
SUMMARY
Upstart is definitely a different kind of personal loan company. They are a solid company with a different, modern way of doing things. More importantly, their relatively low interest rates and the fact that early repayment is not sanctioned make their personal loans among the most attractive ones out there, as our Upstart review clearly demonstrated.